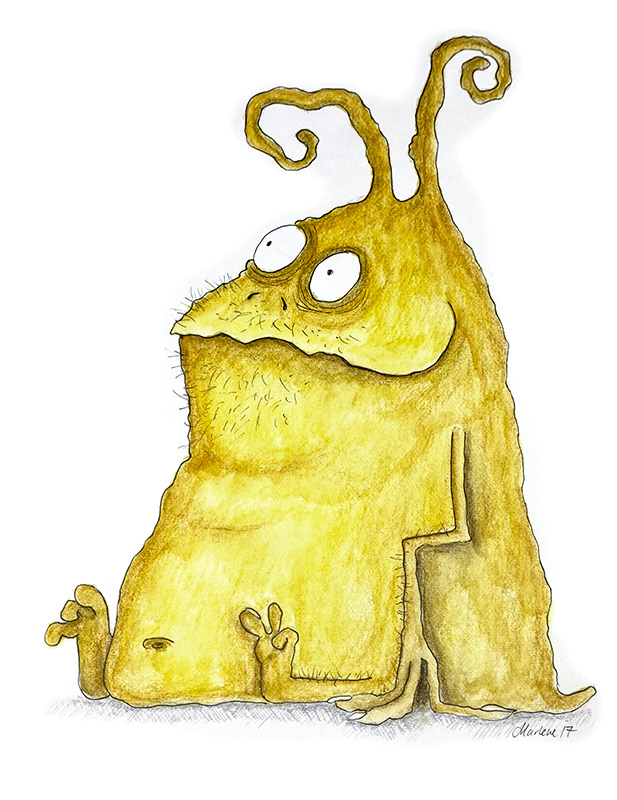 Ympel Dinck
Lever i Stephans kvintet som er en galaksegruppe i retning af stjernebilledet Pegasus. Ham og hans artsfæller har opdyrket betydelige arealer med blomster som galaksegetes, rum-aurikler, stjerne-anis og Kosmos-nelliker. 
Ympel Dinck har en ufattelig høj IQ og det er faktisk ham, der har opfundet ormehullerne og nummereret dem, så man ved, hvor man ender. 2'eren går fx ud til Andromeda-galaksen og 3'eren er netop blevet forbundet med den nye hyper-rum-ringvej, så man på ingen tid kan komme rundt i universet. Her på planeten er I stadig på bondestenalderstadiet i galaktisk forstand, så I har ikke opdaget at 5'eren går lige forbi jer. Det kræver fantasi at opdage. Derfor holder UET (Universets Efterretningstjeneste) skarpt øje med folk som fx. J.K. Rowling, der har opdaget perron 9¾. Ympel Dinck har siden 1 mia år efter Big Bang siddet i teletransport- og kvantemekanik-direktoratet.
--------------------------------------
Ympel Dinck lives in stephan's quintet - a visual grouping of five galaxies visible in the constellation Pegasus. Him and his kind has been cultivating large areas with flowers like space-daisies, galaxy-roses and cosmos-cloves.

Ympel Dinck has an incredible high IQ and he actually invented wormholes and numbered them so you know which one goes where. Fx number 2 goes to the Andromeda galaxy and number 3 has just been connected to the new hyperspace bypass so you can travel around the universe in no time. In galactic sense you are still in the stone age stage, so you haven't noticed that number 5 goes right by your planet. It takes a certain amount of fantasy to discover. Therefore UIB (Universe Intelligence Bureau) keeps an eye on people like J. K. Rowling who discovered platform 9 3/4. Since 1 billion years after Big Bang Ympel Dinck has been a member of the tele transportation and  quantum Mechanics department.