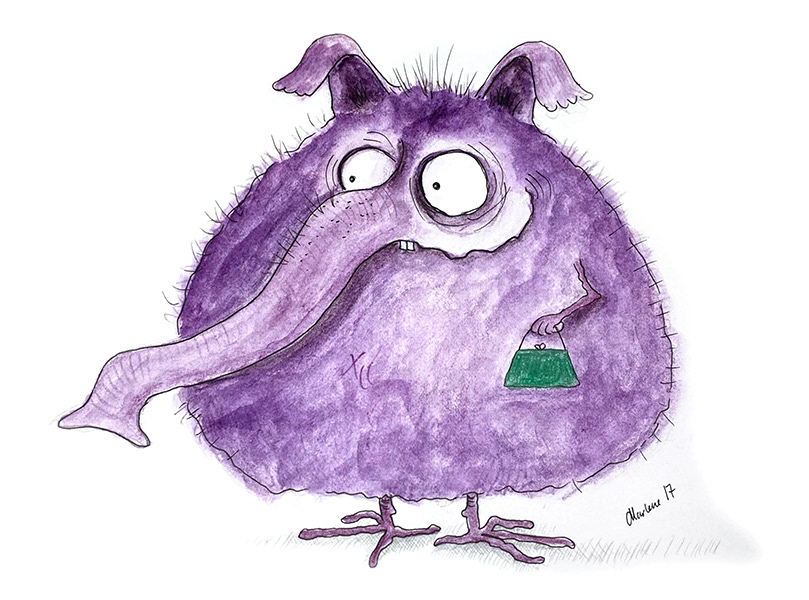 Gupsi Flebbe
På Himsekur lever Gupsi Flebbe fra den store artsfamilie Fnutterne. Astronomerne er endnu ikke sikre på, hvad atmosfæren består af på GJ 1132b  som de kalder Himsekur - vanddamp/metan osv - men de gætter aldrig at Himsekur er omgivet af en tåge af euforiserende stjernestøv.
Gupsi Flebbe er en lilla snabelfnut. Det er universets mest kærlige væsen. Den overgår alt i nuttethed og får milliardærer til at testamentere deres formuer til den. Snabelfnutten er i en konstant tilstand af absolut lykke. Altid høj på stjernestøv, som den sniffer i sig med sin lille snabel, direkte fra atmosfæren på Himsekur. Man kan altid kende Gupsi Flebbe på de bløde ører, som minder om cocker spaniel ører og den grønne håndtaske som alle snabelfnutter er udstyret med. Lilla snabelfnutter elsker klassisk musik og frimærker. Den har også en fætter - den orange snabelfnut - men den er noget af en party-alien, som foretrækker schlager-musik fra Himsekur-toppen og Pisang Ambon. Der skal gå yderligere 738 år før menneskeheden er på et udviklingsstadie, hvor den kan begynde at forstå at det er både nuttet og intelligent liv på andre planeter.
--------------------------------------------------------------
On the planet Himsecury lives Gupsi Flebbe from the species the Fnuts. Astronomers has discovered Himsecury and calls it GJ 1132b. They does'nt know what the atmosphere consists of yet - they think it might be aqueous vapour or methane, but they will never guess that Himsecury is surrounded by a mist of euphoriant stardust. Gupsi Flebbe is a purple Trunk Fnut. It is the most affectionate creature of the universe. It surpasses everything in cuteness and it happens quite often, that billionaires leaves their fortunes to them. The Trunk Fnuts are constantly in a state of absolutely happiness. Always high on stardust which they snorts directly from the atmosphere on Himsecury. You can always know them by the soft ears - very similar to those of Cocker Spaniels and the green handbag. Purple Trunk Fnuts loves classical music and stamps. Gupsi Flebbe also has a cousin - the orange trunk fnut - somthing of a party-alien, who prefers schlager music and Pisang Ambon. There must pass another 738 years before humanity is at a stage of development, where it can begin to understand that both cute and intelligent life excists on other planets.