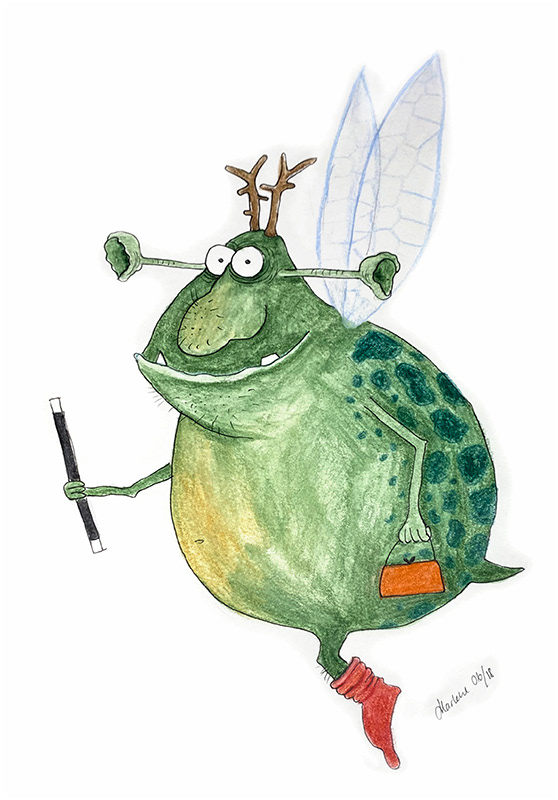 Puffi Graph von Ottendix
En etbenet alien med en tryllestav. Han rejser rundt i hele universet, hvor han kidnapper sokker. Særligt fra jordboere, der ser ud til at have en særlig forkærlighed for sokker og har det største udvalg i universet. Når du mangler den ene sok er det højst sandsynligt at Puffi Graph von Ottendix har den anden. Da han kun har et ben, behøver han kun en sok, og du må beholde den anden. Han har samlet på sokker i 4598723 år. Ja, der er andre civilisationer derude, der opfandt sokker lang tid før jer. Han behøver ikke at bevæge sig ind i Jordens atmosfære for at kidnappe sokker, fordi han har en tryllestav. For det meste svæver han rundt med mindre han sover til middag. I sin fritid er han en ivrig tennisspiller. I sin lille håndtaske har han sin ketcher og et rigt udvalg af sokker.
------------------------------------------------------------------------------------
Onelegged alien with a magic wand. He travels around the entire universe and kidnaps socks. Especially from earthlings who seems to have developed a unique preference for socks. When you have a lonely sock it is most likely that Puffi Graph von Ottendix has the other. Since he has only one leg he only needs one sock. You can keep the other. He has been collecting socks for 4598723 years. Some civilizations on other planets invented socks long before you did. He does not have to enter the atmosphere of the earth to kidnap a sock because he has a magic wand. He is mostly airborn unless he naps. Also he is a keen tennis player. In his little purse he has his tennis racket and plenty of socks.