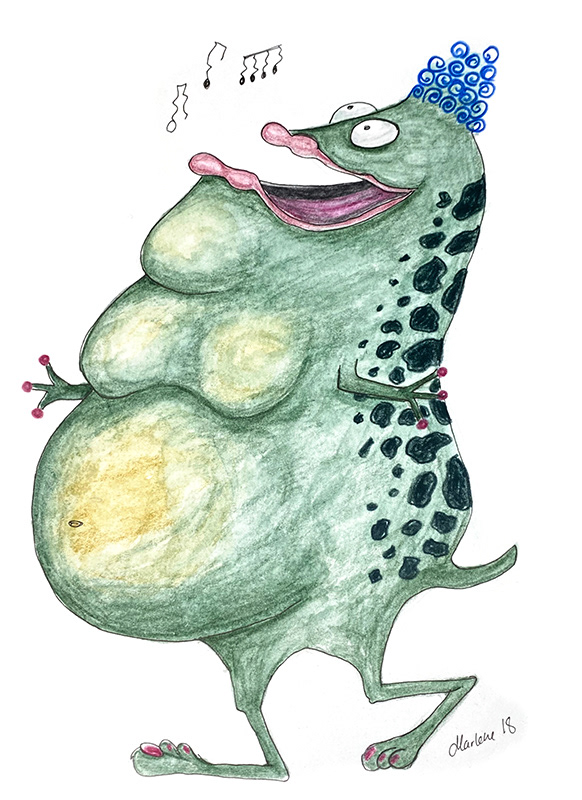 Falsetta Piddle
Det er ikke slut før det fede rumvæsen synger. En kendt talemåde i universet. Det her er Falsetta Piddle fra arten Klingkerne. Alle Klingkere lever i den vildfarelse at de er dygtige sangere. Det er de bestemt ikke. Det er før hørt at individer har revet deres ører af i fortvivlelse når de har hørt Klingkere synge. Særligt Falsetta Piddle er et grumt eksemplar med en skinger stemme.
Ligesom hendes artsfæller er hun ekstremt fed. Når hun ikke synger spiser hun absurde mængder fransk nougat.
Klingkerne er også kendt for deres udsøgte humoristiske sans. De fortæller de sjoveste vitser. Men du må for en hver pris undgå at høre dem synge.
----------------------------------
It aint over till the fat alien sings. A well known quote in the universe.
Falsetta Piddle is from the species the Klingkers. All Klingkers is under the delusion that they are great singers. They are absolutely not. It is known that individuals have ripped of their ears in despair when Klingkers sing. Especially Falsetta Piddle is a foul specimen with a squeaky voice.
Also as her fellows she is extremely fat. When she is not singing she eats tremendous amounts fo french nougat. The Klingkers is also known for having the greatest sense of humor and they tell hilarious jokes. But you must avoid to hear them sing. At any cost.