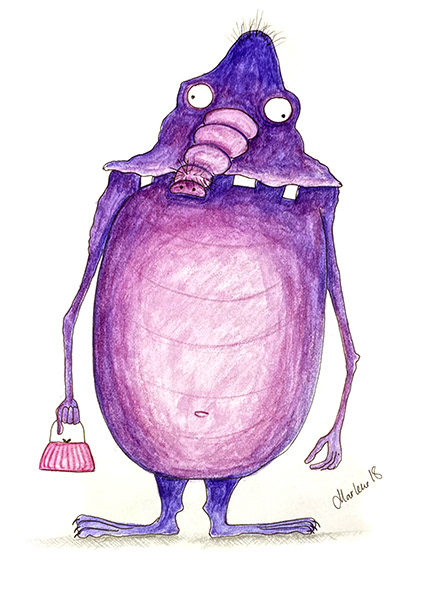 BUGGI SMYRTEL
Hun lever omkring 5000 lysår væk fra planeten Jorden i en meget kold stjernetåge kaldet Boomerang. Buggi Smyrtel har en kropstemperatur, der svinger mellem -237,15ºC og -250ºC. Når hun er koldest er hendes molekylære bevægelse ophørt og hun eksisterer ikke længere. Når kropstemperaturen igen stiger træder hun tilbage i eksistens. Buggi Smyrtel har været en stor inspirator for Søren Kierkegaard og hans eksistentialisme. Det er bedst at holde sig gode venner med Buggi da hun er ekspert i at give en kold skulder. Måder at gøre hende tilpas på er at læse op fra Søren Kierkegaards værk »Enten eller«, fløjte som Roger Whittaker eller bage pandekager til hende.
--------------------------------------------------------
Buggi Smyrtel lives in the Boomerang Nebula some 5,000 light-years away. It is considered one of the coldest places in the universe. Buggi Smyrtel has a body temperature that fluctuates between -237,15ºC and -250ºC. When she is coldest her molecular motion has stopped and she has ceased to exist. When her body temperature rises again she steps back into existence. Buggi Smyrtel has been a great inspirator for the danish existentialist Søren Kierkegaard. You better keep good friends with her because she is an expert on giving a cold shoulder. Ways to please her is reading aloud from Søren Kierkegaards book »Either Or«, whistle like Roger Whittaker or make her pancakes.